New Look Exteriors is an official distributor for Magic Window Innovation

---
Magic Window Innovations has been designing, patenting, and manufacturing industry-leading window and door technology since 1979. We are committed to remaining at the forefront of the industry, in constant pursuit of innovations that bring tangible value to the lives of our customers.
FEATURES OF MAGIC WINDOW INNOVATIONS
NO CRANK
Opens smoothly with no crank handle. These windows have unmatched industry performance.
EASY TO CLEAN
The advanced design allows the window to swing wide, enabling cleaning of the outside of the window from inside the house.
HIDDEN SCREENS
Beautiful views with Slide 'N' Hide screens. Increase natural light by 200% with hidden screens.
SECURITY
High security windows with a durable multi-point locking system. 2-3 times more secure than double hung windows.
---
---
WATCH OUR WINDOWS IN ACTION
Double Casement

---
Double Hung Windows

---
Double Slider Window

---
Single Hung Window

---
---
1
The window sash has a shaft that passes through it and emerges as a hinge post at the top and the bottom.
2
The shaft carries the window much like the hinges on a door and allows the window to swing outward
3
Tracks made of space age composite materials are lined with teeth and are imbedded in the top and bottom of the window frame.
4
The shaft rests on top of a gear that meshes with the teeth and is mounted in a 'shoe' that smoothly rolls along the track on brass wheels. The entire window can slide back and forth as the gear rotates the shaft in perfect vertical alignment with the tracks.
5
Our windows differ from other styles of windows in that a connecting bar controls the swing-out motion of the window. This bar prevents the window from swinging due to winds. The hardware eliminates the need for a crank handle, common in conventional casement windows.
6
The Slide 'N' Hide screen disappears from the view when not in use.
7
The head and sill are reinforced with the composite track and the rail and sash are reinforced with 18-guage galvanized steel.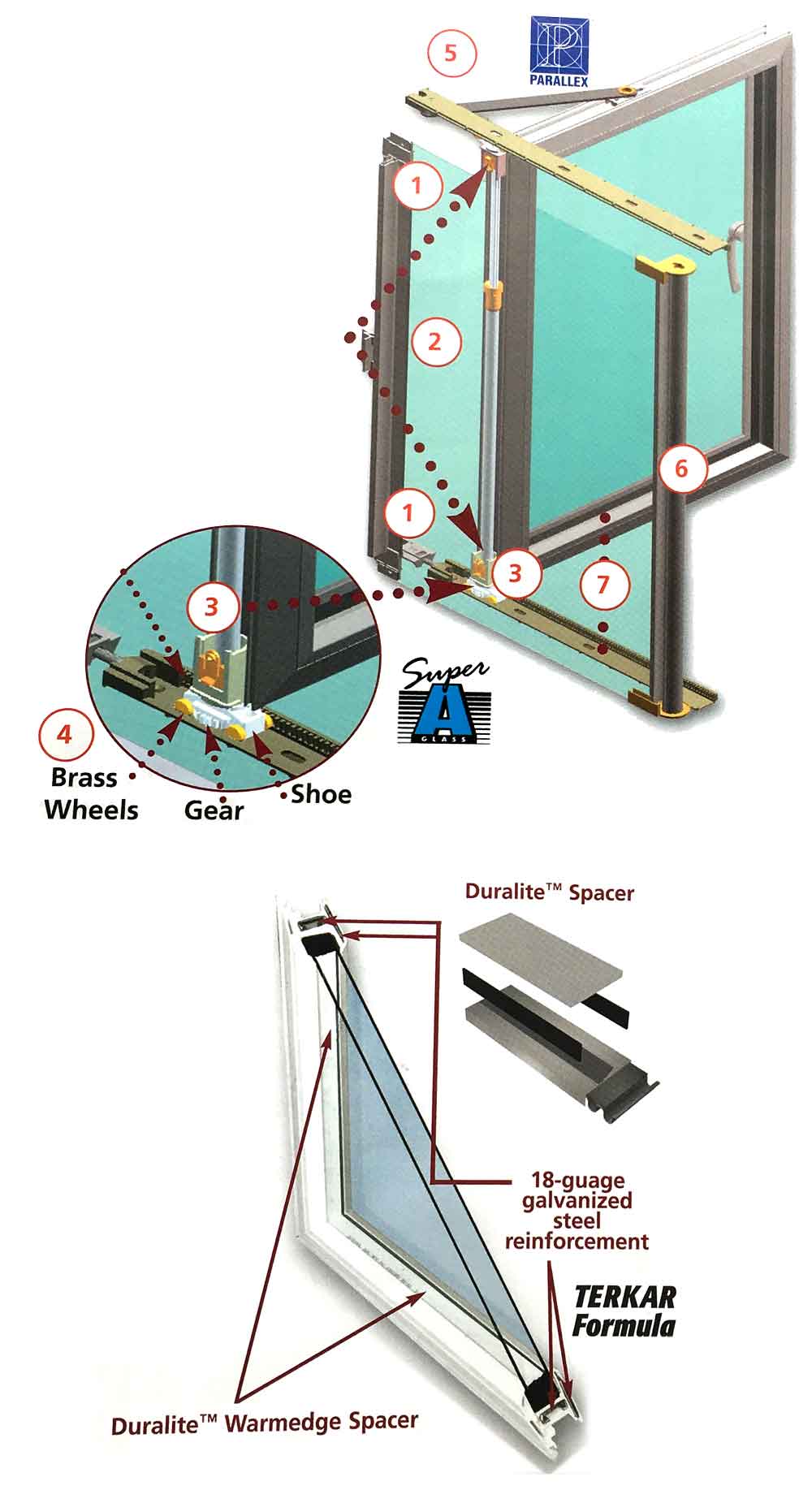 ---
CONTACT
NEW LOOK EXTERIORS
---
403-487-2977
Call today for your free estimate!
Official Distributer

Proudly Canadian Company